I'm over the moon and thought I would share my good news with you. I have been the Social Media Specialist for North Tyneside Council working on The Business Factory project in North Shields for 3 years, having won the contract in 2013.
The tender was up for renewal in July 2016, ready for the new batch of funding. From what I gather 14 Social Media companies applied. To say I was thrilled to find out 2 weeks ago that my tender was successful is an understatement. We had to wait 10 days before saying anything about it, due to the stand off period (I believe it's called that). But now am allowed to shout it from the rooftops 🙂
The Business Factory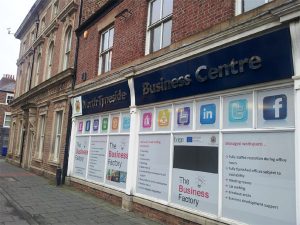 But now, that period is over, and it's time to celebrate. 3 more years of working with some fantastic North Tyneside people and 3 more years of working with the amazing Team at The Business Factory.
The Business Factory offer FREE support and guidance to people wanting to start their own businesses. Helping them with everything from the initial idea concept all the way through to start-up and beyond.  There are loads of free course available too.  I deliver courses including;
An Introduction to Social Media
Facebook for Business
Twitter for Business
I also run a problem shooting Social Media Surgery – 15 minute appointments to "fix" any problems people may be experiencing on their Social Media Accounts. The Business Factory have consultants at hand to help with
Branding
Web content
Marketing
Sales training
Accounting and Bookkeeping
Client's are also referred through to me when they need extra help, a more structured approach, for 121 sessions. The programme has changed this time around and The Business Factory will be able to support existing North Tyneside businesses too. It's a fantastic project and I love being a part of it.
Social Media Support and Consultancy North Tyneside
I've provided Social Media support and coaching to a variety of businesses on this programme including
Web Designers
Heritage Centres
Coaches
Wedding and Event Planners
Solicitors
Organic Retail client's
Sports Therapists
VA's
Film Producer
Construction Consultants
Beauty Therapists
Physiotherapists
Chiropractors
Theatre Projects
Shop Owners
Artists
Cafe's
Alternative Therapists
Copy Writers
and even a Doctor of Seaweed!  
That's what I love most about this project. The fact that it is so varied. Each client is so very different.
The only complaint I have ever heard over the past 3 years is "Why is this only available to North Tyneside Residents?".  The Business Factory  is part of North Tyneside Council's menu of Business Support. Wouldn't it be amazing if other Council's in our area followed by example. Gold star for North Tyneside Council!
Please do get in contact if you need any support!